I know some people not only have a plan for Christmas cards, they have them all finished and already in the mail.
I am not one of those people.
I really had good intentions to have everything all figured out by Thanksgiving weekend and in the mail by the following Monday. Well that has come and gone (and so has the next weekend) and although I don't have things ordered yet, I finally have a plan. I'm going to get everything ordered tomorrow. (Since tonight I still need to try to take the photo I want on there!) I think I should still be able to have them to everyone by Christmas, but if not, I might have to revert back to my approach a few years ago where I sent "holiday cards" which generally arrived somewhere around the new year. The last few years I've done the one-hour developing so I forgot to figure in shipping time! But, I really want to try some of the
Shutterfly folded cards
so I need to get them ordered...like today. Or maybe tomorrow.
It seems I may be turning into some sort of Shutterfly groupie. The
book-making party was fun
& it was great for everyone to get free samples of things, and I really like all the other stuff I've ordered from them. I especially love all the frequent deals and free products they offer. The last few years I've been ordering big 12x12
photobooks
for each kid on their birthday with images from the past year. They are great quality and its been nice to actually have some printed photos around since most tend to live on my computer these days. They're so easy to make, last night Azia just finished one she made all by herself.
But, today I must focus on Christmas cards!
I have been doing flat cards because they're quick and easy & I only need one image.
Last year we went with this:
I actually really liked how they turned out. (I wanted snow in the photo and I had to wait for the first weekend in December to get it but I still had them done before this time!)
My other favorite was this one from a couple years ago. Of course not everyone got it because Dev wasn't totally on board with sending the image to everyone we knew so I did two seperate cards. I can't remember what the other one was--just a more dignified family group photo I think.
This was was definitely cooler. Especially since Zoran was in the "I can stick two fingers in my nose at the same time!" phase, Israel is so bored by this picture taking he is nearly asleep and Azia is so busy practicing becoming invisible she is unaware that a picture is being taken.
Sort of along the same lines of a Halloween photos for Christmas, I did make this card yesterday. I sort of like sending the image of my jailbreak children as a holiday greeting. I imagine I might be the only adult in this house who is on board with this.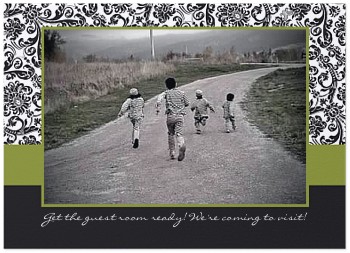 Elegant Floral Black Christmas 5x7 folded card
I may have ordered a few of these cards anyway.
And as I'm realizing how quickly I'm running out of time, after I get my more Christmas-appropriate cards ordered, I must immediately start on our
calendar.
I've been making family calendars (the wall calendar version) for all my siblings and my parents for the last few years. My kids love them because they can see which cousins' birthdays are coming up next and whose we'll get to celebrate each month. I also make one for my grandma & she likes it because she gets a whole collection of new photos and she can also keep track of all her dozens of grandchildren and all their birthdays.
I think there should be some sort of ban on working in December. How am I supposed to fit in getting all these projects finished!?
(and if you have a blog & are as behind as I am and haven't sent Christmas cards yet, check this out if you'd like to get some free holiday cards, too!)